Captrain france
A leading player on the rail-freight market and for logistics operations on industrial sites, CAPTRAIN France boasts a nationwide presence and each day our trains travel the length and breadth of the country. Whether at head office or out in the provinces, our teams are everywhere, always on hand to listen and respond to your every need and provide a guarantee of proximity, reactivity and a keen awareness and understanding of your professional environment.
We are ready & willing to take up your challenge!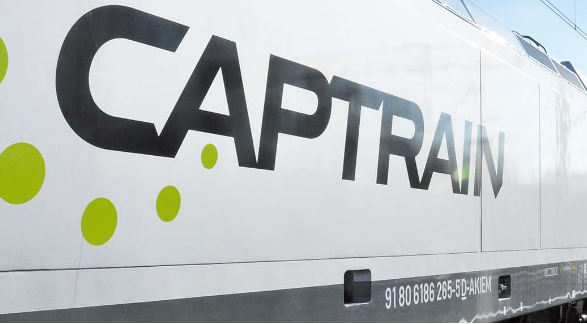 2001
Acquisition of the rail transport activities of the Lorraine basin coalworks (HBL)
2002
Start of our Training activities and creation of our Infrastructure & Engineering Centre
2004
Beginning of our Worksite activities with the construction of the Eastern France high-speed line
2007
Award of our Safety Certificate – launch of our first train on the national rail network (RFN) for Renault
2009
Operation of our very first electric traction multiple unit for Districhrono
2011
Reception of our first two Euro 4000 diesel locomotives
2013
First "Suite Rapide" contract with Meccoli
2014
Transfer of our rail infrastructure management and maintenance activities to SFERIS
2017
First train for maintenance work on the South Europe Atlantic high-speed link (SEA-LGV)
2018
Acquisition of ECORAIL Transport
2019
Introduction of Eurodual, first hybrid bi-modal locomotive in France
2021
VFLI becomes CAPTRAIN France
Safety
In all of our day-to-day activities, the safety of our employees and the goods that have been entrusted to us is always our utmost priority.
Service quality
We cultivate a corporate spirit in which attentiveness, receptiveness and cooperation are the guiding principles of our exchanges.
Sustainable growth
We aim for success in all that we undertake in a constant quest for excellence.
Confidence in our collective strength
The teams at CAPTRAIN France are mutually supportive, friendly and fun-loving and understand the importance of collectiveness.
Environmental protection
We believe that rail is a truly forward-looking solution that provides a real alternative to road transport.
Tailor-made offers
We offer tailor-made transport plans specifically designed to meet customer needs
The captrain network
CAPTRAIN is SNCF Group's brand name for its European freight forwarding activities.
The brand groups together several entities performing activities associated with rail freight transport throughout Europe. Together, these companies provide innovative and complementary solutions that seamlessly combine within a logic of modal transfer. A leading player in the field of rail transport and logistics all over Europe, CAPTRAIN has established a firm footing in the domestic markets of Germany, Belgium, Italy, Spain, Poland, the Netherlands and France and also boasts a presence on all the main international transport lanes.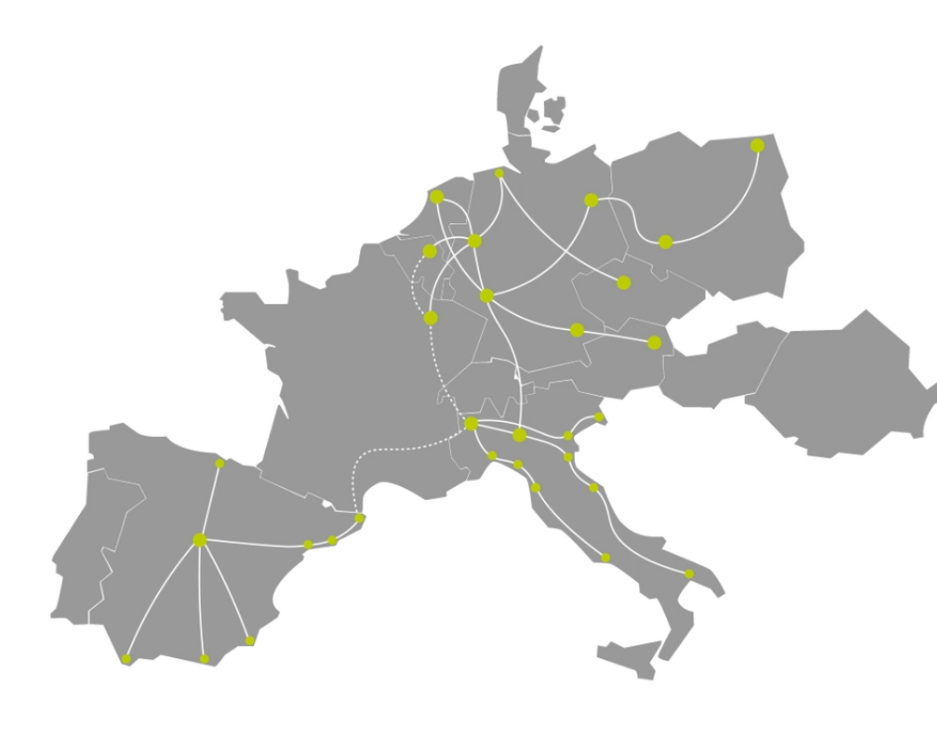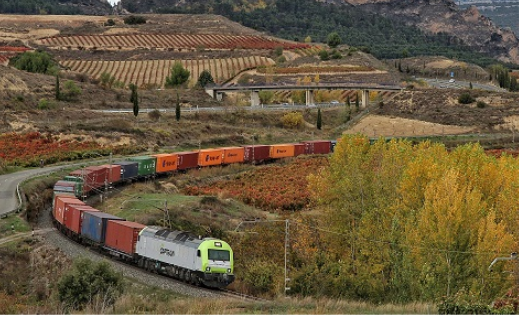 Thus, the CAPTRAIN network offers rail transport solutions for all types of goods and provides its services to clients whatever the local, regional or international scope of their requirements, while also proving rail-related services for industrial sites and spurs along with local train services.
Together with our European colleagues, we share a set of common objectives: to make rail freight forwarding as efficient, reliable, simple, quick and accessible as possible, to support the relocation of industrial production in Europe, and to contribute to environmental protection & conservation
Rail freight,
Transport for the planet
The captrain network in brief
Our mission
Collaborate ardently with our customers and partners to promote rail freight transport as the best solution for a more sustainable future for the economy, for people and for our planet.
Our promise
Act together to shake up the status quo and invent the new generation of rail logistics solutions, smarter and greener.
Our values
We are leading the change towards smarter transportation solutions. For our clients. For our planet.
Passion
We are dedicated to providing our customers with solutions that are perfectly suited to their needs.
Boldness
We allow everyone to invent, take initiatives and seize every opportunity that presents itself.
Benevolence
We put human concerns at the heart of everything we do.
Our rolling stock fleet
CAPTRAIN France operates its services all over the country, by means of a well-balanced, reliable and high-performance fleet of more than 150 diesel & electric locomotives and shunters adapted to the needs of our clients on the national rail network and also on private industrial spurs.
Our fleet includes locomotives from the following families: BB 61000, BB 27000, BB 37000, BB 400, Class 77, G1206, Y8000 and Euro 4000. This fleet enables us to provide our clients with a guarantee of optimum safety, availability, energy efficiency and environmental compliance, in particular with regard to the very latest pollution control standards.
Always one step ahead, in 2018 we introduced the very first bi-modal locomotive to run on the French rail network: Euro Dual.
And to support our continued growth, twelve E4001 locomotives were added to our fleet at the end of 2020.
Locomotive maintenance
All of this equipment is serviced by our network of 7 rail maintenance workshops which are spread across the country. Our mobile intervention teams are also permanently on call to go directly to a site in the event of a breakdown or functional issue.
In view of the fact that we prefer to take preventive measures rather than curing issues after they have occurred, our service interventions are aimed at optimising the reliability and good working order of our equipment, at guaranteeing the best possible safety conditions and at reducing their environmental impact.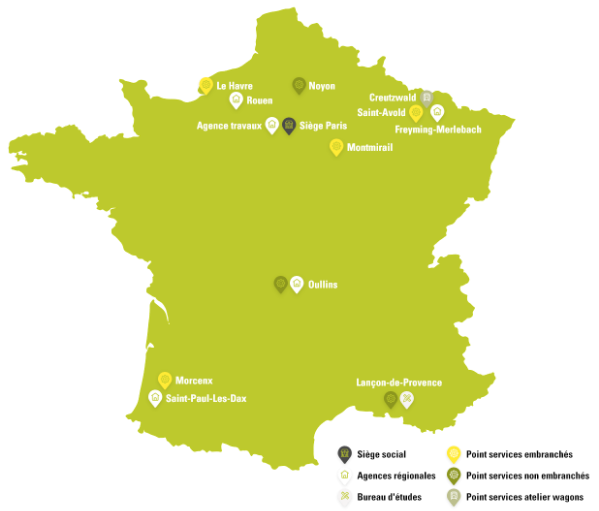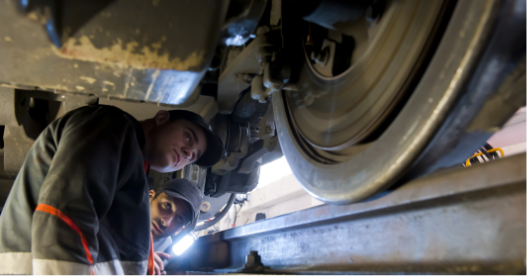 FREIGHT CAR MAINTENANCE
Accredited by all the main freight car leasing companies (ATIR RAIL, ERMEWA, GATX, NACO, VTG), our maintenance teams carry out scheduled technical visits but also corrective and preventive maintenance (brake pad replacement, greasing of buffers and coupling mechanisms) and small repairs directly on site so as to avoid the need to immobilize equipment on site or in our workshops. However, if need be, your freight cars can be swiftly transferred to our workshops for service or repair.
Captrain France in figures
trains operated per month on the national rail network (RFN)
tonnes of goods transported each year
employees including 60 site managers and 350 train drivers
new hires on open-ended contracts
state that they are proud to work for us
of training delivered to our team members
gender equality index for 2019
client satisfaction for our services
You have a project ?
We are ready to meet your challenges!